Kevin Pike, Special Effects Supervisor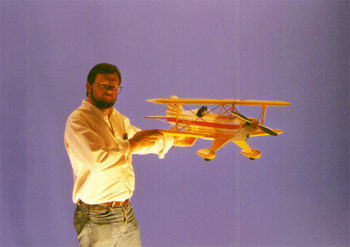 Custom props from "The People Next Door"
Over the years, Kevin has garnered several awards and nominations, including an Emmy (1994-95) for Outstanding Individual Achievement in Special Visual Effects for "Earth 2," an Amblin/Universal, as well as being considered for an Oscar nomination for his work as Special Effects Supervisor on "Back to the Future," the Amblin/Universal feature. He recently earned a Clio for the Best Special Effects (2000) on a Levi commercial for director, Michael Bay, called "Invisible Man".
At the same time Kevin was demonstrating his expertise in the realm of Special Effects, he formed his own production company, Filmtrix Inc., in 1983 and joined the Directors' Guild of America in 1985. He began directing commercials such as the much-lauded spot for British Petroleum Motor Oil, entitled "Car Crusher," which received a Clio nomination in 1989 for International TV/Cinema Recognition in the Automotive Category, the Houston International Film Festival Silver Award, and an International Monitor Award nomination.

He also has directed Second Unit on some projects (including the award-winning "Earth 2"), along with music videos, industrials, documentaries and title sequences.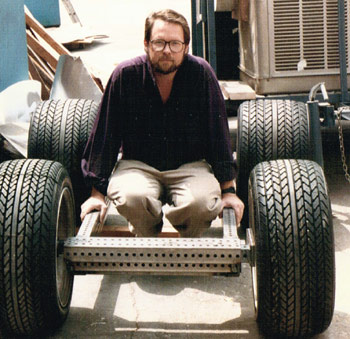 His experience over the years has taught Kevin that he likes challenges, the newness, the unknown elements of film-making, and that this is a determining factor in his goal of furthering his career as a Director. As he points out, "I am not afraid of what I don't know. You can learn so much through the experience of the adventure. I am able to grasp the overview of a project and then develop the camaraderie of the crew necessary to meet the goals."
Currently, when in between Special Effects assignments, Kevin is developing feature projects that, ironically, are not what would be considered Special Effects films. When asked about that, Kevin states, "I feel there should be respect for what Special Effects can bring to a film. But a good story is first; and the effects should compliment the story."
Kevin's love for the medium is evident when he observes, "Film is so lasting: our opinions, our work, can be enjoyed and studied for as long as the medium exists. To express the art --to have it experienced -- well into the future, is one of the major attractions the art form holds for the artist's legacy."
*Normally I include this with the feature, but Mr.Pike has such an impressive filmography I will let imdb do the work.
Answer This?
Q&A with Mr.Pike
Film Addiction:You have worked on just about every aspect of special effects, what specific task or job do you enjoy the most?/smaller>/fontfamily>
Kevin Pike:Discussing the creativity with the Director and determining the correct approach to expidite the Gags. The best part is in the beginning. When the baby is getting conceived. When I come on board, the script is just about set, but there are still changes so you aren't quite sure as to all that will be requested of you. Sometimes. locations are not set and therefore your not sure of your crew, for instance. But all the preproduction conversations are always the most rewarding for me if I'm fortunate enough to contribute to the scheme of things. I enjoy going on the location scout. Sometimes the travel time is when much of the methods are getting hashed out.

FA: Over your career, what technology advances have you witnessed in special effects (or even perhaps developed)?/smaller>/fontfamily>
KP: We have seen major improvements in the pyrotechnics. They are made better and there are far more choices of "kinds" of pyro to chose from. We used to have bullet hits and bombs, and, yes, they are still the main "meat and potatoes," but all the sparks, flashes etc., have help create new looks. Also, our gimbal technologies have come a long way from rocking platforms on inflated tire tubes to high tech motion based platforms AND can work underwater.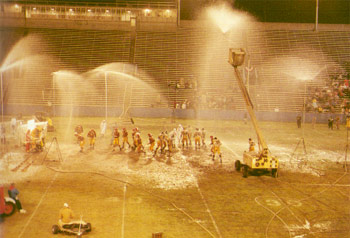 Atmospheric Effects on "Everybody's All-American
FA: Are you currently doing in live action special effects or have those gone by the way side because of CGI?/smaller>/fontfamily>
KP:Well, we have a computer now! Ha ha! And that does several things. One is that more ideas can be realized and therefore more special effects movies can be made. However, a lot of the work that we would have attempted to achieve in the past is done on the computer and it now ends up on the plate of the visual effects team. But when I lecture at the colleges, I can usually change a few young minds on the best way to help them make their first films is by some of that "good ol' fashion" way.
FA: I noticed in your imdb filmography that several of the films your worked on you go uncredited, is that by choice?/smaller>/fontfamily>
KP:No, but in the early days, the sometimes never gave a credit at all. You can still watch films of today and see the atmospheric work on a show and yet, no mention in the end crawl. So, sometimes we just didn't get credit before IMDb came along. My list on my web page at www.filmtrix.com accurately reflects the films I have worked on in the past 30 years and not necessarily just the shows I have supervised.

FA: This next question may be a little unfair (like being ask to pick your favorite child)- Which of your film projects are you most proud of and why?/smaller>/fontfamily>
KP: Easy choice. Back to the Future! Working with Bob Zemeckis was extremely challenging but rewarding for what we accomplished. He truly has a clear vision of what he wants from you in special effects. Back to the Future was so successful and having built the De Lorean Time Machines for the film is such a lasting icon. And the film holds up today as well as it's first run. And it's a great for the whole family. I still get fan mail about it.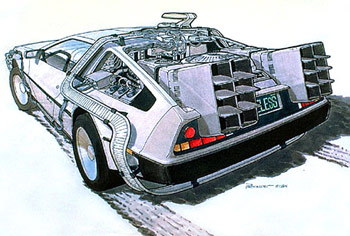 Concept drawing for Back to the Future
FA: What projects are you currently working on?/smaller>/fontfamily>
/smaller>/fontfamily>KP:Recently, I helped a friend finish some bullet hits for the final shoot-out for an upcoming feature called "Mojave". It's not as busy in Special Effects as I would like as a lot of work is gone to other countries or done by CGI. So in between projects, I work on my directing and stories. And I'm pitching a movie of the week idea to Fox this week. Wish me luck!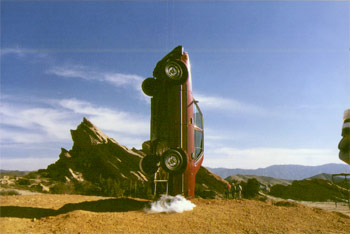 Mr. Pike's Pyrotechnics handiwork
I would like to thank Mr.Pike for allowing me to use pictures and biography from his website.
-Jayson Floyd