Kenneth A. Larson
Set Designer & Visual Effects, Kesign Design
Last Castle Model
What is Kesign Design?
Kesign Design Consulting started as Ken Larson Miniatures in 1980. As we shifted from miniature construction to scenery and Architectural design in the early 1990s, we saw a need to change the name and did so in 1994. Services now include Production Design, Art Direction, Set Design, Visual Effects Design, Interior Design, Theme Park and Theme Architecture Design, and a variety of Traditional and Computer Graphics and Web Design.

Facilities include both a design studio and a model shop. Our research collection includes over a thousand books, over 80 years of National Geographic magazines, numerous periodicals, CD-ROMs, tens of thousands of slides and photographs, an extensive collection of catalogs and samples, file cabinets of clippings, and access to the World Wide Web.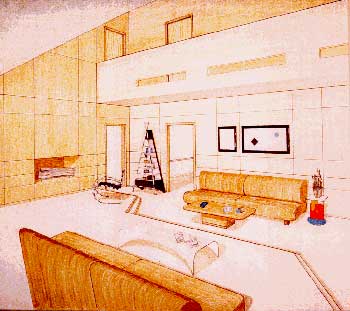 Kesign offers a variety of services, what is your title within the company?
Art Director, Set Designer, Interior Designer, Computer Drafting, Computer Modeling and Rendering, Computer Graphics, Walk-through and Animation, Web Site Design.
Tell a little about your experience.
Began working in Visual Effects in 1978 as Model Maker on Buck Rogers. I have remained involved in Visual Effects for over two decades, recently working as Visual Effects Set Designer of Batman and Robin and Shrek. Projects include motion picture, television, commercials, theme park, Interior Design, and Architecture. Began working with computer graphics in 1991.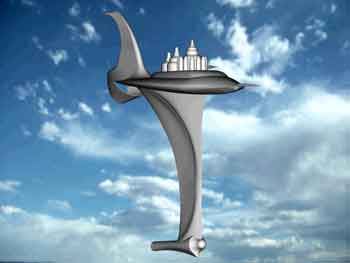 What is the role of a set designer?
In Theater, New York, and most places outside of "Hollywood," an Art Director and a Set Designer is the same position. Production Designer is a recent position, used sparingly before the 1960s. Now, a Production Designer does what an Art Director formerly did and an Art Director does what an Assistant Art Director formerly did. Oddly, there are still Assistant Art Directors doing tasks similar to Lead Set Designer.
In "Hollywood," the Art Director and the Set Designer are distinct positions. The Set Designers job is to take the concepts and ideas of the Production Designer, Art Director, and Illustrator and translate these into working drawings and models to guide the actual construction of sets, props, picture vehicles, signage, and miniatures.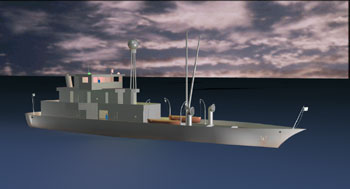 What education do you need in this field?
I have a BA in Interior Design. Other Set Designers have Architecture degrees, some have no degrees at all. I know a good Set Designer who once worked in aircraft design, others automotive backgrounds. There is no set rule. The more the better. I should say that I know one who only had a drafting class and I never thought much of her skills.
I have been using AutoCAD for over ten years and think it's much better, if a little harder to learn, than VectorWorks. The Polar Express used a lot of Maya in addition to AutoCAD, but I haven't learned Maya yet. Photoshop and Illustrator or Corel Draw are good to know. VectorWorks is popular, but I hate it and can't learn it.
Most of us have large personal research libraries but a large show may buy books or use a research library.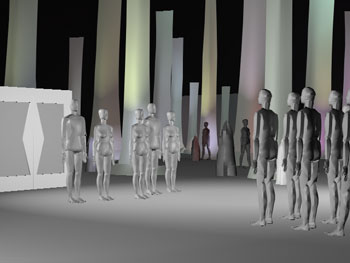 Kenneth's Mission Statement
Since I was about seven, I have been designing theme parks, film sets, zoos, worlds, and objects. I have never thought of myself as an artist, rather, I see myself as a designer. I see art as something visually pleasing alone, or visually not pleasing, depending on the intent of the artist. I have always designed for usefulness. To me, an object that is made to be used must function well first and then be visually appealing. Too often I have seen buildings that are praised for their design but do not enclose a space effectively or have structural problems. I have seen beautiful houses that I would not want for a home. I have used tools or other objects and wondered why the controls are so hard to reach. I want to design useful environments that also happen to be exciting places to experience.

I feel that my imagination is what makes me a good designer. I am not referring to imagining a good design, instead, I am referring to imagining myself using the object, living in the house, riding the theme park attraction. By so doing, I mentally encounter and solve problems before resources are committed. As a professional model builder for eighteen years, this imagining of a situation has saved me countless hours and materials by anticipating a problem and solving it before using time and materials to pursue a dead end. By the time I start construction, most of the problems are expected and resolved and the model seems to fall together.

My fantasy is to build a theme park that would be a cross between Disneyland with its perfectly choreographed story that the visitor passively enjoys and Dullas (the overall complex in the movie Westworld) with its "spare no expense" attitude to making a believable interactive experience. I would like to build a theme park in which the visitors interact with the characters, both audio-animatronics and carbon based. It would recreate worlds, past, present, future, and imaginary, to the finest movie set-like detail. I believe that if theme parks don't become more interactive, they will loose out to Virtual Reality, why hassle with packing and traveling if you can insert a new disk. I would like to put twenty-five years of film and theme park experience and endless hours of education to use in designing the best interactive experience on Earth. If I can't build the best theme park on earth, I'll be happy to build the first theme park on the moon.
The Polar Express
Release Date
November 19,2004
Based on the children's book of the same title by Chris Van Allsburg, the film's theme is: Believing in Santa Claus isn't easy when all of your friends and family insist he's just make-believe. But a young boy's faith is rewarded on Christmas Eve when he's awakened by a steam train whose conductor (Tom Hanks) pulls up in front of his house and takes him and other children to the North Pole to meet Santa.