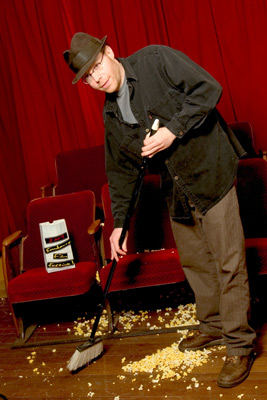 Gary Yates was born and raised in Montreal, Quebec. His first short film, entitled Made For TV, was a surprise hit at the Berlin Film Festival where it was described as "An erotically charged, gross-out S&M vehicle of undeniable zest and wit." The film was written, produced, directed, photographed and edited by Yates, and went on to screen at festivals worldwide.

Yates subsequent short film, Without Rockets, was shortlisted for an Academy Award nomination, and won the National Screen Institute Drama Prize.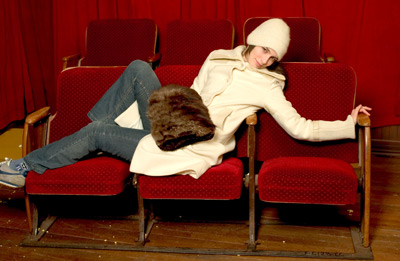 Liane Balaban stars as Fiona in 7XL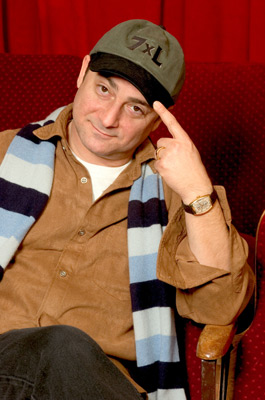 Kevin Pollack stars as Harlan in 7XL
Director's
Statements
Hiding a 128 degree temperature change (in a film that takes place over three days) was a continuity nightmare. On nights when temperatures plummeted below minus 40 with fierce arctic winds, the crew worked in space suits and goggles, strangely silent. When the temperature soared to the high seventies, set dressers in shorts and t-shirts scrambled to find snow, scrounging what they could from nearby arenas.

They say you cant fight Mother Nature, says writer/director G.B. Yates, So in the end, the weather became a co-director of sorts, informing the performances and the urgency of some scenes.

As lead actor Kevin Pollak puts it, I have never been so cold in my life. Its one thing when your nose-hairs freeze and fall off, but when the moisture in your eyes hardens that doesnt work for me.

I actually enjoy working at minus 40, says Yates. With the right gear, its kind of like scuba diving.

Yates wrote the treatment for Seven Times Lucky during a stay in the Bahamas, where he fished (and dived) and devoured Florida crime novels with dark rum. The resulting screenplay went though several drafts over a period of three years, and was developed through the National Screen Institutes Features First Program.


Answer This?

Q & A with

Mr. Yates

Film Addiction: I have noticed that you completed some series for French Canadian television and some short films. Is this his first feature films?
Gary Yates: First feature.
FA:When the insurgence of so many productions taking place in Canada, do you prefer to work in Canada? Where was Seven Times Lucky Shot?

GY:Canada can be a very cool place to shoot a movie. Most of the film was shot at night, on location, in Winnipeg, Manitoba, during a bizarre set of weather conditions that saw temperatures spanning 128º F (!) over a five-week period. Day 1 of principal photography: minus 51º F
Day 25 of principal photography: plus 77º F
FA:What was your inspiration behind the story of Seven Times Lucky?

GY:Ray Charles, Tom Waits, Raymond Chandler, Elmore Leonard, Jim Beam

FA:With a cast that includes Kevin Pollak, how did you go about assembling such fine actors for your feature film?

GY:A good script will attract a good actor. One good actor attracts another good actor, etc.


A Closer Look: Seven Times Lucky

Kevin Pollak (The Usual Suspects) and Liane Balaban (New Waterford Girl) star in Seven Times Lucky, a new Christmas-noir caper from writer/director G.B. Yates, his feature film debut.

When a veteran grifter (Pollak) loses ten grand of the boss money on a bad horse tip, his talented young protégé (Balaban) devises a risky scheme to get the money back... Film Noir with a yuletide twist, Seven Times Lucky spins a twisting yarn in which three generations of crooks vie for a coveted prize on Christmas Eve. Featuring supporting players James Tolkan (Back To The Future), Gordon Tootoosis (Reindeer Games) and Babz Chula (Last Wedding).